Scientific Diving Classes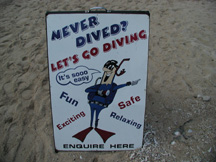 Becoming Certified
The next Scientific Diving class will be Spring 2023 as a quarter long course. You can see sample schedules below from past classes in both the intensive (Fall) and quarter long (Spring) formats. If you have a medical condition (typically diabetes or asthma) that might preclude you from taking scientific dive training please contact Diving Safety <divingsafety@ucsc.edu> so that we can discuss your options.
First Steps:
Review the Fall or Spring Information Sheets as well as the Fall or Spring Syllabus. Access additional information about UCSC's Biology Classes.
Complete an Application and the Equipment List. Both of these need to be sent to the Diving Safety Office by the application deadline.
Print and complete the Medical Forms. Obtain your doctor's signature and the Health Center signature if exam not performed at the Health Center.
Medical clearance and other required documents will be collected on the first day of class.
Review Equipment Hints and prepare your equipment.
Scientific Diving Certification Progression
For infomation about SCUBA classes consult Athletics and Recreation.
Example 1
Example 2
Example 3
Example 4
Not SCUBA Certified
Not SCUBA Certified
Not SCUBA Certified
SCUBA Certified

Fall Quarter

Fall Quarter

Fall Quarter

Fall Quarter

Winter Quarter

and Rescue Diver

Winter Quarter

and Rescue Diver

Winter Quarter

and Rescue Diver

Winter Quarter

Spring Quarter

Scientific Diving $450

Spring Quarter

Spring Quarter

Spring Quarter

Scientific Diving $450

Moss Landing

Research Diver Course $500

Fall Quarter

Scientific Diving $450