Scientific Diving Classes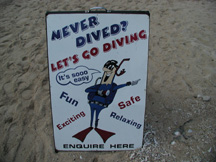 Becoming Certified
The next Scientific Diving class will be Fall 2023 as a condensed month long course. You can see sample schedules below from past classes in both the intensive (Fall) and quarter long (Spring) formats.
Scientific Diving requires a reviewed, and approved, medical evaluation from the Student Health Center. If you have any question or concerns about your fitness to dive please contact Diving Safety <divingsafety@ucsc.edu> so that we can discuss your options.
First Steps:
Review the Fall or Spring Information Sheets as well as the Fall or Spring Syllabus. Access additional information about UCSC's Biology Classes.
Complete an Application. If you would like to utilize departmental dive gear for the BIOE75 course, complete the GoDive application.
Print and complete the Medical Forms. Obtain your doctor's signature and the Health Center signature if the exam was not performed at the Health Center.
Medical clearance and all other prerequisites are to be completed and uploaded within the application form. Any prerequisites not completed by the submission deadline must be updated before course start.
If you are using your own gear, review the Equipment Hints document before purchase. Please adhere to the gear service and inspection policies detailed within the application.
Note: Applications for the course will be reviewed and spots will be allocated based on the relative need of each
student. Priority is given to those that need scientific diving certification to pursue their research or to complete
their degree.
Scientific Diving Prerequisites and Certification Progression
Example 1
Example 2
Example 3
Not SCUBA Certified
Not SCUBA Certified
Already SCUBA Certified

Fall Quarter

Basic SCUBA

Fall Quarter

Basic SCUBA

Fall Quarter

Advanced SCUBA

Winter Quarter

Advanced SCUBA

and Rescue Diver

Winter Quarter

Advanced SCUBA

Winter Quarter

Rescue Diver

Spring Quarter

Scientific Diving

Spring Quarter

Rescue Diver 

Spring Quarter

Scientific Diving

 

Fall Quarter

 Scientific Diving

 
At this time UCSC Athletics and Recreation is not offering SCUBA courses. Review their site for current offerings.