EH&S COVID-19 Resources
Resource Requests
EH&S is currently distributing a variety of supplies to support a safe return to on-campus work. Available items include: face coverings, gloves, disinfectant, and hand sanitizer. Request can be submitted through the Resource Request Form. Please attempt to consolidate requests into a single submission by research group, building, or department as appropriate. All requests are evaluated by EH&S staff before pickup will be scheduled.
Details on other COVID mitigation items can be found on the Additional Resources page.
---
Face Covering Distribution Sites
If you are looking to obtain masks for personal use you can avoid the request form process and instead visit one of the campus distribution sites. Surgical and KN95 masks are available; distribution is self-service but please be respectful and only take what you need. Locations and hours of operation are detailed below.
Distribution Location
Hours of Operation

Bay Tree Bookstore

(Help Desk)

10 am - 4 pm, Monday - Friday

McHenry Library

(Circulation Desk)

8 am - 9 pm, Monday - Thursday

8 am - 5 pm, Friday

12 pm - 8 pm, Saturday and Sunday

Science and Engineering Library

(Circulation Desk)

8 am - 9 pm, Monday - Thursday

8 am - 5 pm, Friday

12 pm - 8 pm, Saturday and Sunday

Hahn Student Services - Dean of Students

(Suite 245, South entrance)

9 am - 5 pm, Monday - Friday

Bay Tree Testing Site

(Amah Mutsun Conference Room)

8:30 am - 4:30 pm, Sunday - Friday

Kerr Hall

(Reception)

8 am - 5 pm, Monday - Friday

Redwood Free Market

2 pm - 5 pm, Monday

9 am - 1 pm, 2 pm -5 pm, Tues - Thurs

9 am - 1 pm, Friday

Scotts Valley Center

(Reception Desk E100)

8:30 am - 12:00 pm, 1:00 pm - 4:30 pm

Monday - Friday
Face Covering Guidance and Recommendations
At this time, masking continues to be required in campus clinical settings (e.g., Student Health Services and COVID-19 testing sites).
Also, per CDPH, anyone who tests positive for COVID-19 or is known to be a close contact of a COVID-19 positive individual, must wear a mask for 10 days.
A f

ace covering is defined by Cal/OSHA as a surgical mask, a medical procedure mask, a respirator worn voluntarily, or a tightly woven fabric or non-woven material of at least two layers.

A face covering has no visible holes or openings when held up to light and must cover the nose and mouth.

A face covering does not include a scarf, ski mask, balaclava, bandana, turtleneck, collar, or single layer of fabric.
California Department of Public Health (CDPH) has summarized the relative effectiveness of common face covering options. Additional detail can be found on the CDPH site - Guidance for the Use of Face Masks and Get the Most out of Masking.

As important as mask type and material is, an equally important factor is mask fit. Check the fit of your face covering and eliminate gaps above the nose or on the sides. Gaps will significantly reduce the effectiveness of any mask.
Face coverings that are made from a single layer of fabric (bandana, scarf, balaclava, turtleneck) should not be used. Coverings with exhalation valves or vents allow virus particles to escape. Avoid using material that makes it difficult to breath.

*Visit CDC.gov for additional face covering resources.


Available Face Coverings
There are four types of face coverings available on the Resource Request Form:  Cloth masks, single use surgical masks, KN95 masks, and N95 respirators.
The CDC has recently published an updated report on the effectiveness of face coverings in preventing the transmission of SARS-CoV-2.  Human Studies of Masking and SARS-CoV-2 Transmission
Reusable Cloth Masks
Update, January 2022 - Cloth masks should no longer be used on their own and instead should be worn over a surgical style mask. Cloth masks are still available as they can improve the fit and comfort of surgical masks.
All cloth masks available are made up of at least two layers of fabric and fit comfortably over nearly all face shapes.  All styles are machine washable.

Each style has their advantages.  The shaped cloth mask has a seam in the middle of the mask giving more room in front of the wearer's mouth.  The be smart about safety mask has a soft innermost layer and a wire across the bridge of the nose allowing for a more snug fit.  The pleated cloth mask expands more than the other two and fits larger faces best.
Single-use Surgical Masks
Surgical masks are three ply paper and cloth masks with ear loops that provide good protection.  The are held in place by ear loops and can be shaped to fit the bridge of the wearer's nose.  To prevent cross contamination, surgical masks are only available in boxes of 50.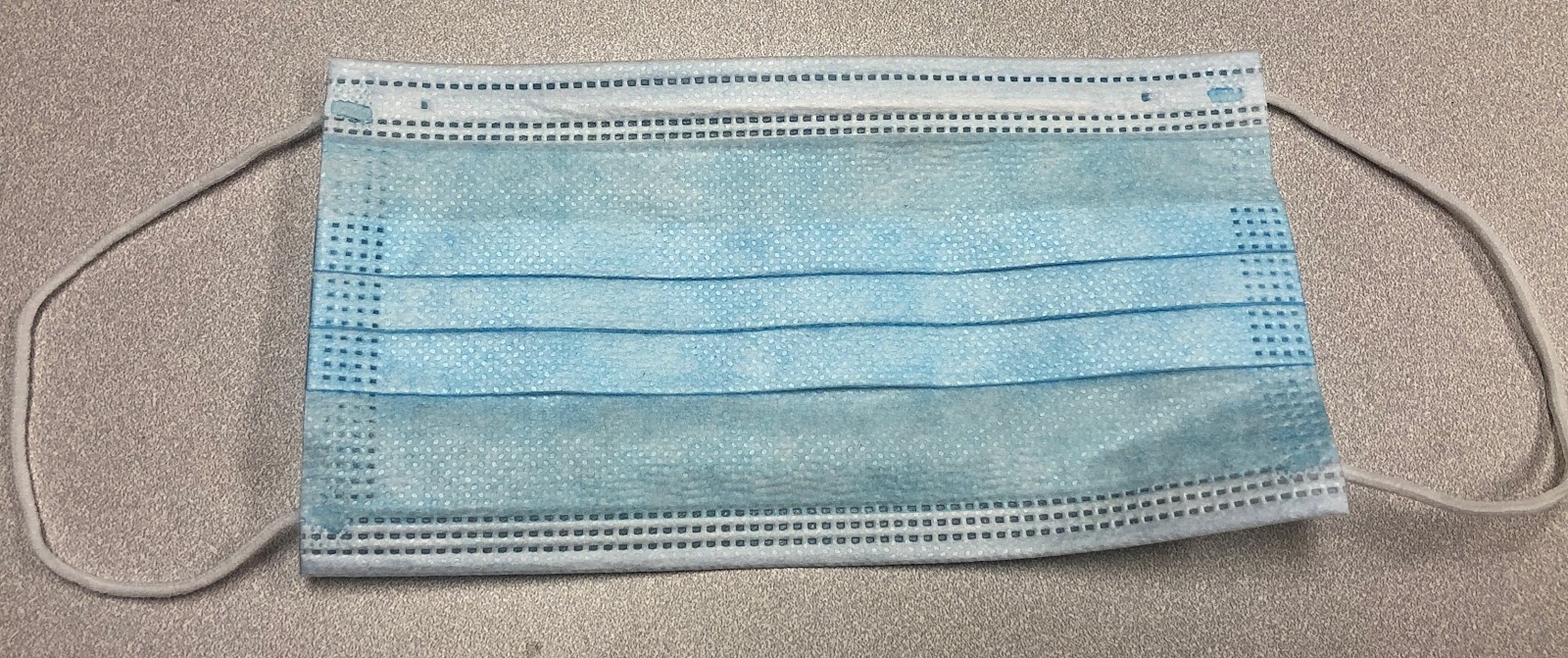 KN95 Masks
KN95 masks offer good filtration in a comfortable style. The material is pliable and will conform to the wearer's face. Masks are secured with ear loops.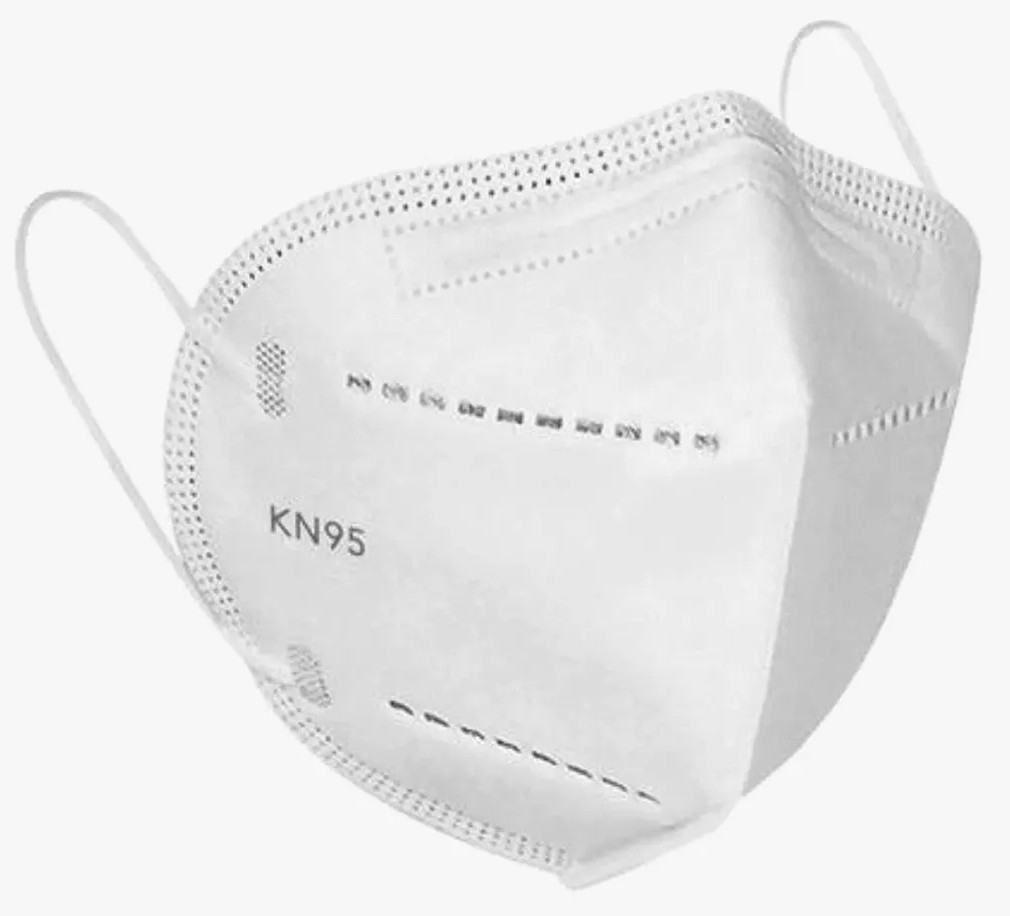 N95 Respirators
N95 respirators provide the best protection from respiratory droplets.  They can be worn repeatedly, but there is not a good method for cleaning them.  Anyone wishing to wear an N95 on a voluntary basis must first complete the online N95 Voluntary Use training.  More information about N95 respirators can be found here: N95 Respirators.