Drinking Water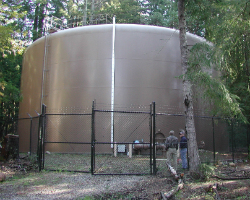 Drinking water on campus is supplied by the City of Santa Cruz. All treatment and purification of campus drinking water is performed by the City. UCSC maintains a one-million gallon drinking water reservoir at the upper campus that could help to supply fire-fighting or drinking water in an emergency.
Most of the City water is surface water (as opposed to well water). Its storage in surface reservoirs often results in a discernible alga-related taste and odor effect appearing in late summer or early fall. While not a health issue, the City drinking water aesthetics during this time can be improved by filtering the water through an activated charcoal filter.
For consultation or discussion of campus drinking water quality issues, contact the Environmental Programs Manager at 831 459-4840. 
Drinking Water Information
Santa Cruz City Water Department
California Department of Health Services Drinking Water Program
EPA Office of Ground Water and Drinking Water
EPA's drinking water standards program