Hazardous Materials Storage
The storage of hazardous materials on campus is regulated by the Santa Cruz County Environmental Health Service. There is no "List" that identifies all hazardous materials, as they are extensive and constantly changing. Essentially, any material for which the manufacturer prepares a Safety Data Sheet (SDS) is considered to be a hazardous material, and must be stored in accordance with County requirements.
Hazardous materials must be stored so that they are separated from incompatible materials and must be provided with proper secondary containment. Each unit or department that stores or handles hazardous materials is required to do routine, documented self-inspections of the storage areas. Details on storage requirements and a link to the self-inspection checklist are listed below.
EH&S is required to submit a current inventory of hazardous materials and campus storage locations to the County annually. Units or departments that undergo a significant change in the quantity of stored hazardous materials or a change in storage location must immediately notify the EH&S Office, as the update must be submitted to the County.
For consultation concerning hazardous materials storage requirements, please contact the Hazardous Waste Manager, 9-3086 or hazwaste@ucsc.edu. 
Sample Emergency Procedures
In Case of an Emergency or a Large Spill:
    1) Evacuate area
    2) Call 911
In Case of a Small Spill:
    1) Contain or absorb spill if you can do so safely
    2) Notify _________ of incident
    3) Contact EH&S (x9-2553) if assistance is needed
Flammable Storage Area Placard
The label should be as follows: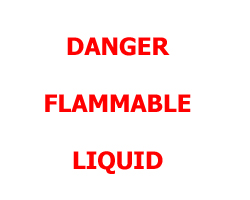 The placard should consist of all capital letters, minimum 3" high with a 1/2" wide stroke, in red letters on a white background. The campus sign shop (x9-4845) has this placard on file and can produce a vinyl transfer for around $25.
Secondary Containment
Specific requirements of the secondary containment are:
The containment material is compatible with the stored material (it won't be degraded by a spill).
All materials stored in the same secondary containment are compatible (they won't chemically react with each other).
The volume of the secondary containment needs to be 110% of the volume of a single container or, if there are multiple containers, the LARGER of either 150% of the largest container volume or 10% of the total volume of all the containers. 
There is no preferred / recommended container. Plastic is often used for secondary containment. Most laboratories on campus use a heavy-duty plastic tray made by the Nalgene Co. It is 20"X16"X4" deep and contains 5 gal. They can be purchased through our Banner purchasing system from Fisher Scientific, Cat # 13-359-26. With the UC discount, they're under $20 each. Some Physical Plant facilities have used cut-down poly drums or galvanized metal for secondary containment. Rarely, the building itself can be considered as secondary containment, if it is liquid tight, and all of the stored materials are compatible. 
Hazardous Material Storage Resources
Hazardous materials storage facility inspection form (Word version, download and customize)
California general industry safety order for storage of compressed gas