Laundry Information
UCSC's lab coats are laundered through Mission Linen. Coats are picked up Thursday morning and returned the following Thursday. 

Current laundry locations include: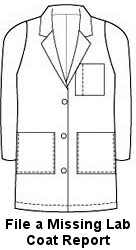 Baskin 40 (BELS Receiving)
Biomed 208
Coastal Biology 230 (picked up 1st Wednesday of the month)
PSB 101
Sinsheimer 139
Before putting your lab coat in the laundry, please ensure that it is labeled with: your name, your PI, and your laundry location. If your coat does not have this information, bring it to PPE office hours for labeling.
Lab coats that do not have a laundry location label are often returned to PSB 101.  If your lab coat has not been returned and you believe it is missing, please fill out a Missing Lab Coat Report and we will do our best to track it down.
Click below for a map showing the current laundry locations.